When Jin Young Ko sank her final putt at the Evian Championship in late July of 2019, she achieved a feat that only two Korean golf stars had managed before her: she claimed two Majors in a single season. Those other two stars were also the two biggest stars Korea had ever produced: Inbee Park and Se Ri Pak, the only Korean golfers to ever qualify for the Hall of Fame. Ko was in august company indeed.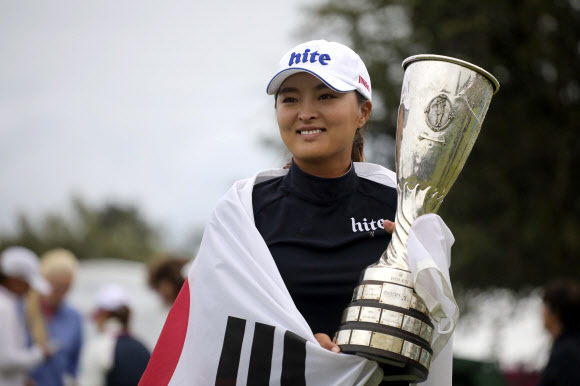 The victory at Evian was her second career Major and set her up for an even rarer feat: the possibility of three Majors in one season. She would not have long to wait: for the first time in decades, the LPGA had scheduled two Majors in back-to-back weeks. And so, she set off for Woburn to play the AIG Women's British Open.
In the end, she just came up short, finishing solo third, but she was very much in the hunt for that elusive third Major right up until the end. Her performance was far beyond what almost anyone was expecting of her even as recently as the start of the year. So what happened to elevate her game like that? How did Jin Young Ko rise so swiftly to become the best Korean golfer of her era?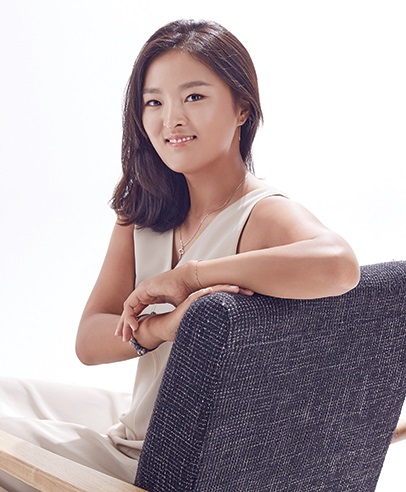 Ko turned pro and joined the Korean LPGA in 2014. It was a tough year to be a rookie: among the great players in her class were Sung Hyun Park (who is currently the #2 women's golfer in the world behind Ko); Ji Hyun Oh (a big star to this day on the KLPGA); multiple KLPGA winner Min Sun Kim; and Kyu Jung 'Q' Baek, who would not only win the Rookie of the Year title that year, but would also win an LPGA tournament and move on to the LPGA tour before the season was out.
Ko finished second in the top rookie race behind Baek, but it was a close battle much of the year. Baek won more events, but Ko's consistency allowed her to stay with and even lead the race on several occasions. In fact, with just a few events to go, the two were exactly tied atop the rookie standings. Baek finally beat Ko at the last event of the season, but Ko's 14 top tens allowed her to finish 8th on the money list, a great result for a 19-year-old.
Below: Jin Young Ko with fellow rookie stars Min Sun Kim and Kyu Jung Baek in 2014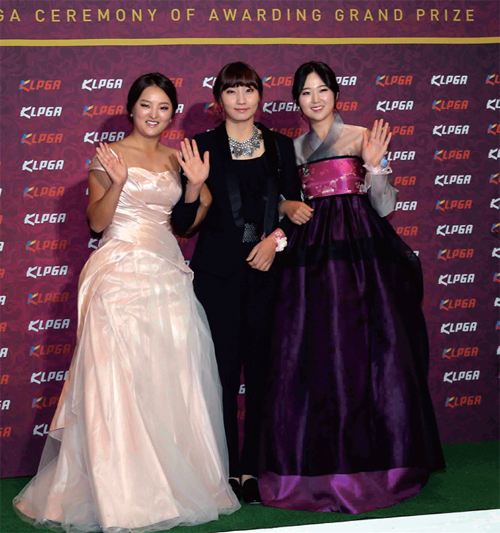 Over the next few years, Jin Young continued to impress on the KLPGA. In 2015, she won three events and finished fifth on the money list. But it was at the LPGA's Women's British Open that she truly made her name. Using a local as a caddie, she charged into the lead after three rounds. Despite pressure from Inbee Park, Ko led most of Sunday, until a bad shot on the 16th hole led to a double bogey. Park won the title, but Ko finished second and marked herself as a player to watch.
Below: Jin Young bundles up at the 2015 Women's British Open
In the off season, Ko hired legendary caddie Dean Herden for her bag. Her third season (2016) was truly great, but she had the bad luck of dealing with Sung Hyun Park at the height of her powers. Park won seven times that season on the KLPGA tour to Ko's three. Even so, Ko managed her first KLPGA Major win at the Hite Cup, and earned over a billion won for the season, one of only a handful of players to ever do that. It still wasn't enough to top Park on the money list, although she did edge Park by a single point in the Player of the Year standings.
So after three years on tour, Jin Young Ko had done just about everything short of win on the LPGA tour or have one season where she was the hands-down best player on the KLPGA. She obviously had the potential to be a big star on the LPGA, and with Herden on her bag, it looked like she now was ready to try her luck overseas. And it was quite common for a KLPGA star like her to leave the tour after three years.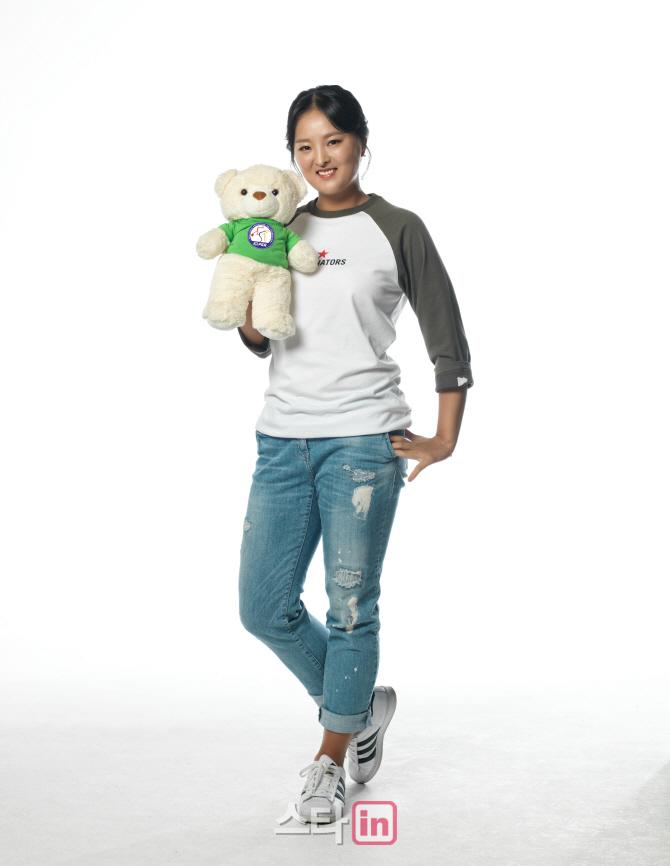 But 2017 arrived and Ko did not leave Korea. It's not clear why, but perhaps she was not yet convinced that she was good enough for the big leagues, which seems frankly incredible. Or perhaps she still wanted to have that dominant year on the KLPGA tour? With Park having departed to the LPGA, perhaps she would have that chance. But, alas, luck was again not on her side. This time her main rival was the previous year's top rookie, Jeong Eun Lee 6. Lee had had a solid rookie year in 2016, but in 2017 she suddenly became a record smashing superstar, blasting all in her path. She broke a billion won that year and captured all the year ending hardware. Ko once again was not the biggest name, even though she ended up fourth on the money list with two wins and many top finishes.
Perhaps Ko would have remained on the KLPGA in 2018, but as it turned out her mind would soon be made up for her. At the 2017 KEB Hana Bank, the annual LPGA event in Korea, she wound up in an epic battle in the final group on Sunday with two of the most popular Korean golfers of all, In Gee Chun and old rival Sung Hyun Park. An insane number of fans showed up to watch this battle of titans, most of whom were fans of Park and Chun, who have the two biggest fan clubs among the Seoul Sisters. But in the end, it was Ko who claimed the trophy. In so doing, she earned an LPGA card for 2018, and decided, after some consideration, to take it.
Below: Jin Young and her first LPGA trophy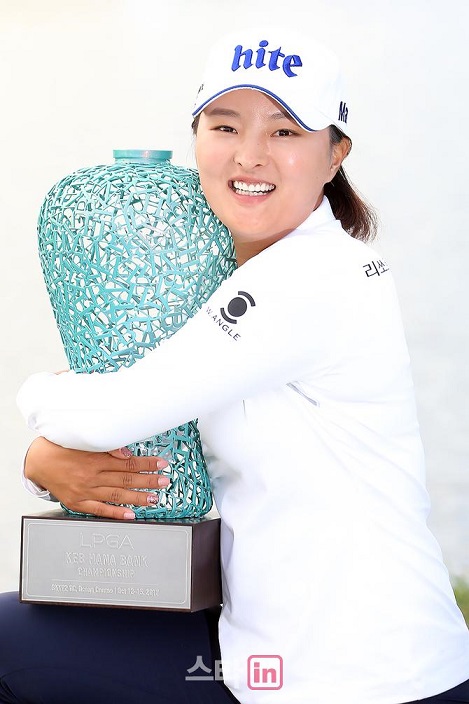 In 2018, Ko immediately showed she was the rookie to beat: she won her very first tournament as a member, the Australian Women's Open. It was the first time an LPGA player had won her first event as a member in over 60 years. That was her only win in 2018, but she had 13 total top tens, the most of any of the Koreans, and finished 10th on the money list. A star was born.
As great as her career had been to date, however, she was still not one of the very best Koreans on tour. How did she manage to take such a quantum leap upward in 2019? In the off-season, she focused on two things: one, increasing her driving distance and two, improving her short game. She made huge strides in both areas and has reaped rewards for this all year. She also teamed with a new caddie, Dave Brooker, who had had a lot of success on the bag of Lorena Ochoa and Grace Park in the past.
Below: Jin Young Ko, 2018 LPGA Rookie of the Year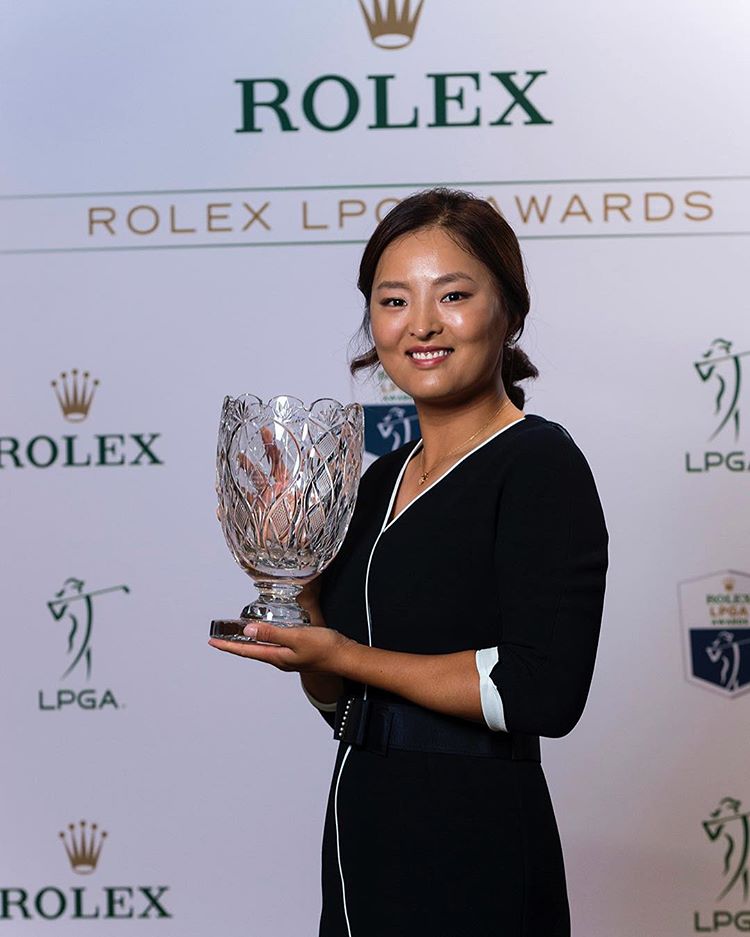 Right from the beginning of 2019, Ko announced that she was ready to challenge for the top of the league. She shot a final round 64 in defense of her Australian Open crown, finishing second. Soon after, she finished tied for third at the HSBC, then won her first event of the year at the Founders Cup, coming from four back in the final round to capture her third career trophy.
She grabbed a 'mere' tie for second the next week, then dominated the field to capture her first career Major at the ANA Inspiration, her fourth straight top three finish. The win also moved her to #1 in the world for the first time in her career. She would stay there for the next couple of months.
Below: Jin Young takes the victory dive at the ANA Inspiration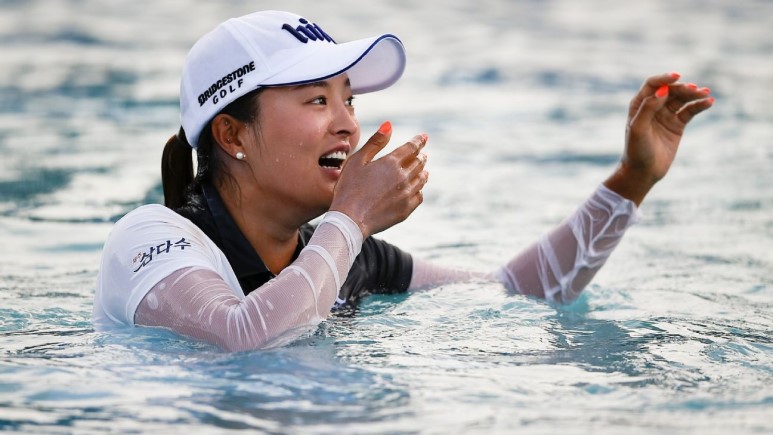 Her next couple of months were not as successful, but she still played very well, finishing no worse than 30th in any event. She resumed her great play just in time for the final two Majors: in the Dow Great Lakes team event, she paired with Minjee Lee to shoot a blistering 58 in the final round and finish second. The following week saw her capture the Evian, her second Major of the year. She spent most of the week trailing Hyo Joo Kim, herself a former champion of the event. Ko seized control when Kim had an unlucky break that saw a bad tee shot plug in a greenside bunker.
Below: Jin Young kisses her second Major trophy of 2019 at the Evian Championship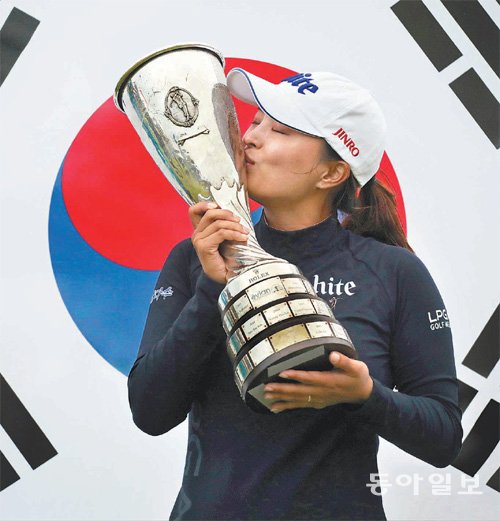 And so, she had the chance last week to grab the Women's British Open, and her third Major of the year. And she made the best of it. Entering the final round four back, she would shoot a 66, her best round of the week. At the turn she found herself locked in battle with her old nemeses Sung Hyun Park and Jeongeun Lee 6, but she outlasted both of them. Alas, she missed a couple of crucial putts in the final four holes, including one by an inch, and wound up third. Still, a fantastic effort for the player who was once again #1 in the world.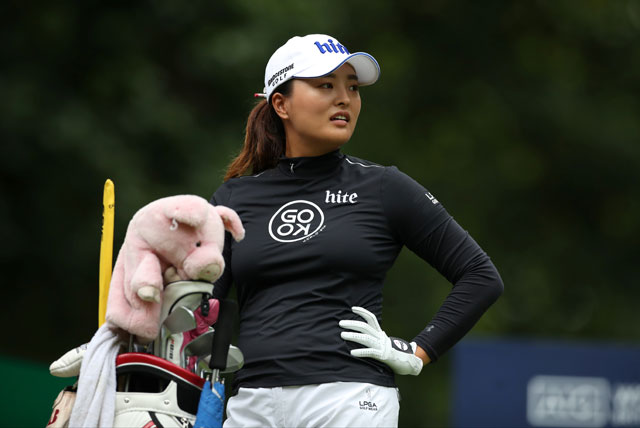 She isn't just #1 in the world, she is currently number one in almost every significant race on the LPGA tour. She leads the money list with over $2.2 million, leads Sung Hyun Park in Player of the Year by 90 points (that's the equivalent of three tournament wins), and leads the low scoring average with a scintillating 69.03 (if she stays near that value she will have the all-time lowest scoring average for a Korean). She also just claimed the Annika award for best record in the Majors in 2019. And just this year, she has become so good with English that she no longer uses a translator to answer her questions, entertaining reporters with her humor and welcoming smile.
Jin Young Ko has well and truly elevated herself to superstar levels; it will be exciting to see what she can accomplish as golf heads towards the 2020 Olympics and International Crown.